November 24th, 2014
Don't miss out. Take advantage of this wonderful opportunity to get 20% off all of my artwork between Black Friday and Cyber Monday. Use discount code ESZMML. Valid 11/28 - 12/01. Get the unique Christmas gift that you know they don't already have. My fine art is beautiful all year round. Take advantage of this discount while it lasts!
November 20th, 2014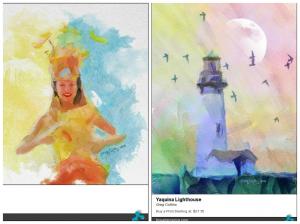 Today I posted two new digital watercolor paintings for:

1. Tahitian Dancer - A beautiful Tahitian woman in traditional yellow costume with headdress, dancing near a palm tree.

2. Yaquina Lighthouse - A quaint little lighthouse located on the Oregon coast, along the Pacific Ocean of the United States of America.
July 11th, 2014
Follow me on Twitter @gsclds